Asian-American Forum
Spring 2012 Issue no. 13
Editor Note: The editor has decided to include articles submitted to Asian Pacific Americans for Progress (http://www.apaforprogress.org) also in this seasonal newsletter. Any cross-posted articles will be identified by name and date submitted, and the reprints here will serve to verify authorship. The particular blog can be accessed here: http://www.apaforprogress.org/blogs/chriswong.

Nori Seaweed No Longer Safe

by C.H. Kroll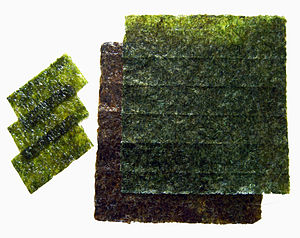 Earth Day has passed, but Earth is less environmentally safe than ever, thanks to colossal disasters, such as the 2010 BP oil spill and 2011 Fukushima nuclear power plant ruptures. What is worse is that the U.S. mainstream media has become increasingly accepting of "news blackout" recommendations from the Obama administration.
It may be politically saavy for the world leaders to order news blackouts and substitute this with more salacious news pieces. Maybe they feel they can divert public attention, but all the same, it seems the citizen's right to know, his right to demand accountability from elected authorities, is being downplayed.
What is of further concern is that this sets a precedent for extending news blackouts indefinitely (as appears to be the case with both the BP and Fukushima disasters), as if scientific evidence is not news fit for the lay, as if previous levels of safe exposure can be adjusted at will, as if we must be content with oleaginous press feeds.
Maybe when the public will is completely paralyzed by passivity, the outcry over increased mortality rates will simply by voiced over from outpourings in grief. In the meantime, let me remember Earth Day with a brief list of the changes noticed in my lifetime:
A lot less honey bees pollinating flowers and trees in the United States [1]
Visibly smaller snowpack in our mountains (eg. Sierra Nevadas)
Diminishing numbers of good air quality days in urban areas [2]
Not safe to eat fish and/or shellfish daily anymore
Most farm-raised poultry, cattle, and fish are grown using steroids
Increasing numbers of genetically-modified (GMO) fruits and vegetables [3]
Decreasing fresh water supplies such as rural groundwater tables
Increasingly under-reported incidences of contaminated water supply [4]
Increasing numbers of plastic/ synthetically manufactured goods, &
Development of huge ocean trash vortexes [5]
This is not including the never-ending debates on global warming or where-to-safely-dispose-nuclear-wastes. With regard to the BP oil spill, it was nice to see a few mainstream media articles for Earth Day, such as the Fox News' April 18th "Eyeless Shrimp and Mutant Fish" article
[6]
.
One pair of intrepid journalists who have been measuring the plausible impacts of the Fukishima nuclear spill in the United States is Michael Collins and Denise Duffield, award-winning investigative print and online journalists who have published their stories at the trail-blazing website Enviroreporter.com. Here, visitors can find out the latest feeds from their radiation monitoring experiments.
Their findings indicate that not only is radiation raining down in the Los Angeles area and spreading elsewhere, but it is now in many food items, such as soy, beer, fish, tea, and even seaweed [7]. It's not just a matter of the food being spread through the biosphere via air or water, but the radioactive isotopes (which takes centuries to lose their radioactivity) being absorbed by growing plants, seeds, insects, rocks, and animals for several generations.
If by now one suspects that it's hardly safe to eat or drink anything anymore--well, you are not alone; afterall, GMO-herbicide corporations have billions of dollars with which to force their ways upon growers and consumers. It's not easy washing off the herbicide resistant fruit and vegetables, but it's worse knowing that your vegetables (eg. corn and soy) "are engineered to produce their own built-in pesticide in every cell." [8] possibly affecting human cells within gastrointestinal tracts; or that fruits are prone to strange fungal diseases that can affect rural ecology (such as bees).
Each presidential election means change, and there are ways which voters can exert their influence in election years. Vote for politicians who truly want to promote and protect press freedom. Express your disappointment to your President/ Senator on the appointment of Islam A. Siddiqui to Chief Agricultural Negotiator in the Office of United States Trade Representative because Dr. Siddiqui is an avid GMO biotech/ pesticide supporter. Learn about the issues by reading alternative media articles (such as this one). Organize local farmers markets and encourage them to sell only non-GMO fruits and vegetables. Don't buy GMO food products or invest in GMO corporate stocks. Encourage more non-lobbyist funded research on the effects of GMO vs. non-GMO grown foods.
We can help replenish the world with good healthy pesticide-free foods, and clean air and water. Here is one website article by Anna Brones at Ecosalon.com to inspire you about the importance of bees[9]: "Foodie Underground: 20 Uses for Honey You Never Though Of".
And here is another Ecosalon.com article by Stephanie Rogers indicating that if you don't act, we will surely get much more of the same: [10] "20 Genetically Modified Foods Coming to Your Plate."
--Image source credit to Wikipedia (http://en.wikipedia.org/wiki/Nori)
Notes:
1.
"Colony Collapse Disorder," Wikipedia, last modified May 5, 2012,
http://en.wikipedia.org/wiki/Colony_collapse_disorder
2.
"Climate Activists: Durban Deal is "Very Weak" Agreement, Democracy Now, December 12, 2011,
http://www.democracynow.org/2011/12/12/climate_activists_durban_deal_is_very
3.
"The Truth is Out on Genetically Modified Foods - And It's Not Pretty," Food Matters, accessed April 20, 2012,
http://www.foodmatters.tv/_webapp/the%20truth%20is%20out%20on%20genetically%20modified%20foods%20-%20and%20it%27s%20not%20pretty
, quicklink
http://tinyurl.com/7jxzl4l
4.
Carole Sevilla Brown, "Can I get you a glass of weed killer with your dinner?"
Ecosystem Gardening
, April 2010, accessed April 2012,
http://www.ecosystemgardening.com/can-i-get-you-a-glass-of-weed-killer-with-dinner.html
5.
Greenpeace International, "The Trash Vortex," accessed April 20, 2012,
http://www.greenpeace.org/international/en/campaigns/oceans/pollution/trash-vortex/
6.
"Eyeless shrimp and mutant fish raise concerns over BP spill effects," Foxnews.com, April 18, 2012,
http://www.foxnews.com/scitech/2012/04/18/eyeless-shrimp-and-mutant-fish-raise-concerns-over-bp-spill-effects/
7.
Michael Collins, "Japanese Seaweed Radiation Doubles,"
Enviroreporter.com
, April 20, 2012,
http://www.enviroreporter.com/2012/04/japanese-seaweed-radiation-doubles/
8.
"The Truth is Out on Genetically Modified Foods - And It's Not Pretty," Food Matters,
http://tinyurl.com/7jxzl4l
9.
Anna Brones, "Foodie Underground: 20 Uses for Honey You Never Though Of,"
Ecosalon.com
, September 5, 2011, accessed April 20, 2012, http://ecosalon.com/foodie-underground-20-uses-for-honey-that-you-never-thought-of-190/
10.
Stephanie Rogers, "20 Genetically Modified Foods Coming to Your Plate," March 1, 2012, accessed April 20, 2012, http://ecosalon.com/20-genetically-modified-foods-coming-to-your-plate/
Women's Studies Just as Relevant than Ever

by Christine Wong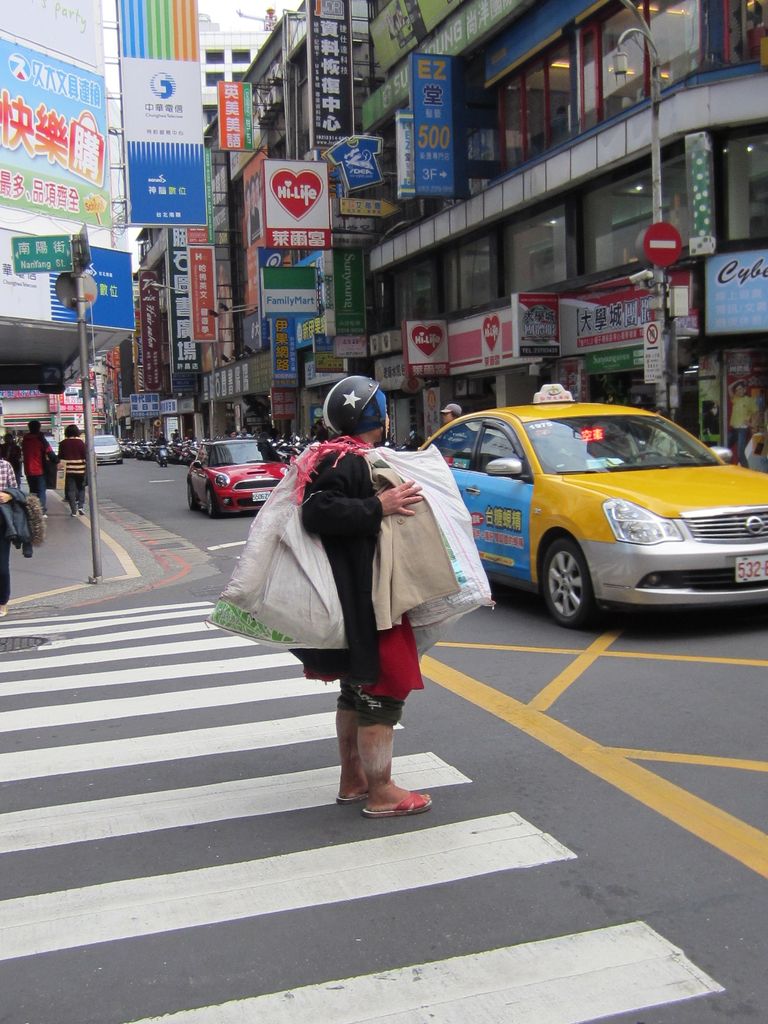 Nowadays, it appears as if women have reached parity with respect to men; women can enter any field of study at virtually any college of their choice. They have reproductive rights (only wicked women need to worry about abortions), and equal representation (provided they look like supermodels).
Isn't this why Women's Studies remains just as important as ever, if only because many people (women and men) remain willfully misguided about the facts—the disparities in opportunity, in income, in access to legal recourse, and indeed in political representation? According to Wikipedia, "As of 2011, 17 of the 100 senators are women." Although the recent figure (and the political representatives themselves) is impressive, only 39 women have served since 1922, seven of whom were appointed (http://en.wikipedia.org/wiki/Women_in_the_United_States_Senate).
Women politicians and leaders tend to highlight issues that males may not raise. Are the handicap handrails too high for women and children to grasp? How can we improve communication through temperance and fair play? Who can forget the champions for causes concerning environmental contamination, such as homeowner association organizer and author Lois Gibbs, who helped bring nationwide attention to the fact that there are poorly designed landfills?
Just as there have been and still are toxic waste dumps around the country which are ticking time-bombs, ultimately costing lives and extra taxpayer money not to mention time for redesign and detoxification (Beck, http://www.epa.gov/history/topics/lovecanal/01.html), so placidity with regard to women's rights can cause those rights to crumble over time.
Older single minority women still rank among the most impoverished not just in the United States, but around the world. Women lag far behind men in the trades, particularly in construction. Syndicated sports may contribute to the attitude that women are incapable of operating construction machinery. More U.S. programs, such as Oregon Tradewomen, Inc. are needed to support female apprenticeships. Women may not possess as much upper body strength as some men, but they compensate with regard to speed, agility, size, and most of all bring to the workplace cheerful work ethics.
Although I have only enrolled in one course, I am grateful that at Fresno City College, Survey of Women's Studies was a recommended requirement. Learning who early feminist leaders were, such as Susan B. Anthony, Elizabeth Cady Stanton, Fannie Lou Hamer, Jane Adams, and Sojourner Truth not only helped instill understanding and appreciation, but furnished the basic hermeneutics for re-authoring History, Literature, Sociology, Medicine, the Arts, and many other vital fields in recognition of feminist contributions and perspectives. More importantly, these names stand tall as monuments, taller than the infusion of sexualized media icons.
Women Studies helps to furnish the rhetoric for men who are subject to fantasy figures, and particularly so that women are equipped with the personal determination, more important than the legal recourses in place, to voice their concerns. Personally, I can name many examples where I have had to be assertive. As a solo female traveler, I recall the night before I took the Professional Engineering exam, how the hotel manager placed me in a room where under the mattress, I discovered several porn magazines. Older career women more often face the "so what?" attitude from younger women and uneducated males when challenged about their career qualifications. Finally, solo female travelers have to face off situations such as I did recently, where the manager at my hostel insisted it was okay for the construction workers to come into our all female dorm room to access the bathroom water tap. When I complained that the workers were not bothering to lock the door when they were finished, the manager evicted me.
These kinds of double standards, where single male visitors are more welcome at restaurants and hotels than single women, has improved over the past decades, but not enough. It saddens me that women, unschooled and uneducated in the rhetoric of feminist politics, often contribute to their own demise by failing to discuss the underlying philosophy, content to prate about what they need to buy next to look more photogenic.
Women Studies has done much to raise awareness that rapes should be prosecuted; that women and men deserve family leave; that only through action can there be change; that women have to learn to organize and join women's groups such as the American Association of University Women to promote awareness in the media; that it is okay to be assertive; moreover, that it is not okay to not be assertive.
To quote Sojourner Truth: "If the first woman God ever made was strong enough to turn the world upside down, all alone / Together women ought to be able to turn it rightside up again" (http://www.womenwriters.net/domesticgoddess/truth.htm).
Some additional links:
--Photo (of woman in Taipei) & article by Columbia Press, Submitted to apaforprogress.org February 2012
Going Green Taiwanese Style

The first time I heard the melodious 7-note bars wafting through the open window, my instincts informed me it was the ice-cream truck. But something didn't seem quite right. The truck lingered for a long time, it traveled each street, and there were several trucks doing the same business afternoons and evenings.
My hostel manager in Tainan made a big deal about recycling the garbage. "This year there is a city-wide movement to go green, to recycle everything, to reduce waste," she said as she rapidly rummaged through the garbage, sorting the paper from the plastic, the organic waste from the glass. With a cry of "I think I'm in time!" Emily rushed out the door hurrying after the singing truck. I was mildly impressed. That was when it dawned on me that she was hurrying after the garbage pick-up.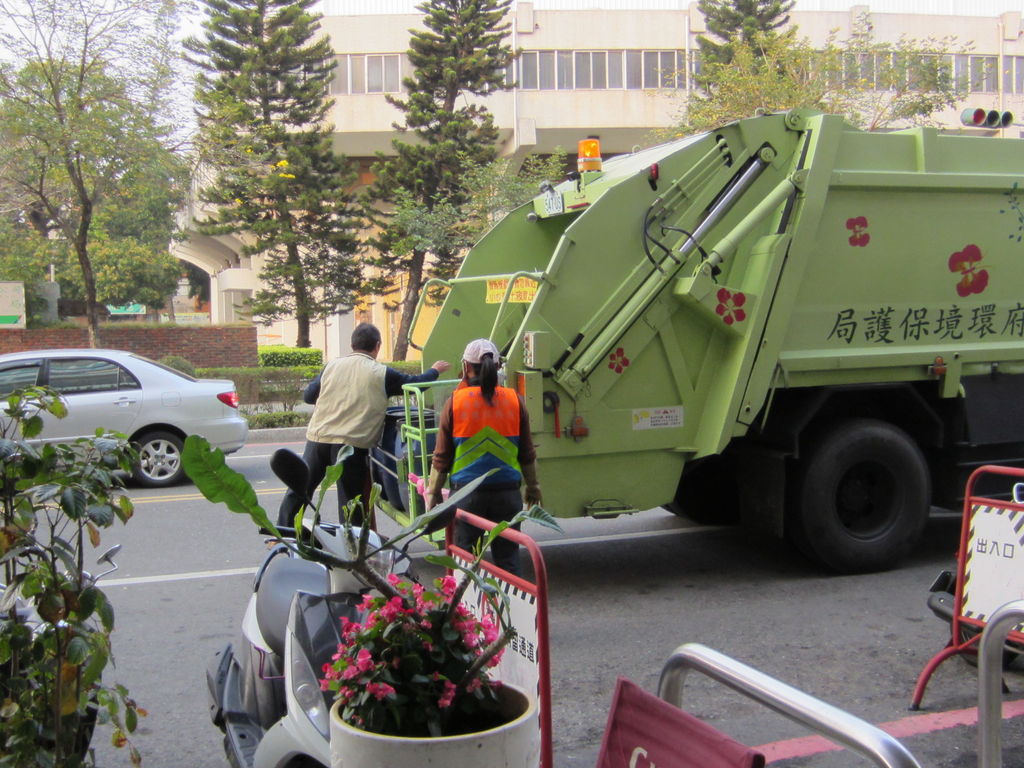 Zero-Waste Recycler in Action
As the days roll by, I gradually recognize other differences in the way garbage is handled. Many of the truck drivers and handlers are female. They don't haul heavy loads to and fro either; on the contrary, businesses and homeowners bear the responsibility of carrying their own (pre-sorted) waste to the back of the truck.
In Taiwan, this makes imminent good sense. Firstly, business density is so high in commercial districts that owners actually alternate opening days. Cafe A opens Monday, Wednesday, Friday; while Cafe B is open Tuesday, Thursday, and Saturday. Secondly, with owners bearing the responsibility for sorting their own waste, they can use different sized containers or plastic bags depending upon the amounts of accumulation; they may require a big container for plastics, but only a small one for glass bottles, for instance.
There are other benefits with the owner-take-charge garbage-hauling system. The sanitation workers don't need to worry about straining their backs hauling the trash; they can focus on directing the collection towards the proper recycle containers; and certainly, they don't need to worry about calling at each and every address (but the trucks do come by at least once a day with martial efficiency).
In an island with competing land development interests, Taiwan's Zero Waste and Recycling Promotion is an attempt to genuinely protect their limited land and resources with "Go-Green" philosophy. The Taiwan Environmental Protection Administration (EPA) Solid Waste website states:
The average amount of Municipal Solid Waste (MSW) collected for disposal reached 0.520 kg per capita per day in 2008, which dropped by 50.74% from the peak value in 1998. The percentage of MSW that was properly disposed of increased from 60.17% in 1989 to 99.99% in 2008.
Taiwan's recycling programs include Lubricating Oil Recollection Stations (important considering the number of motor scooters), Awards for recycling assessments, and assisting vendors in taking charge of fulfilling recycling stipulations for electrical products. In fact, this island-nation's pro-active environmental intervention earned it 29th place among 132 nations for the World Economic Forum's 2012 Environmental Performance Index (EPI), "ahead of Canada (37th), South Korea (43rd), Australia (48th), the US (49th), Singapore (52nd) and China (116th)" (EPM1502, February 2012). The Environmental Policy Monthly, an EPA circulator, explains the significance in ranking:
"Among a total of ten policy categories, which included 22 indicators, Taiwan came first in the categories concerning the impact of air quality on public health, the impact of water quality on public health, and forest conservation. Gaining top honors in these categories shows just how effective efforts to maintain air quality, manage water use, conserve forests, and ensure universal access to water and sanitary facilities have been." (EPM1502, February 2012)
Taiwan's pro-active approach towards waste collection includes providing for and setting solid waste goals. For instance, administrators' revision of regulations include new targets for lowering plastic packaging trays and boxes:
"The reduction target for hypermarkets and supermarkets for 2012 is now 40%. From 2013, the grouping together of items will mean a reduction target of 80% for plastic food packaging trays and boxes for eggs, fruit and vegetables, and bakery products." Excerpt from Environmental Policy Monthly, 15 (1)
The extent to which the entire community is involved is also truly admirable. Already the country is among the tidiest of nations, with most shop-keepers washing down the sidewalks every morning, and litter scarcely seen. One program on Da-Ai television channel showed how seniors have taken on volunteer work in recycling programs around the country, some donating as many as four hours per day picking up trash, sorting it, and transporting it to recycling facilities. In fact, here again, older women (who may have already been in the garbage collection business) are often taking the lead in organizing.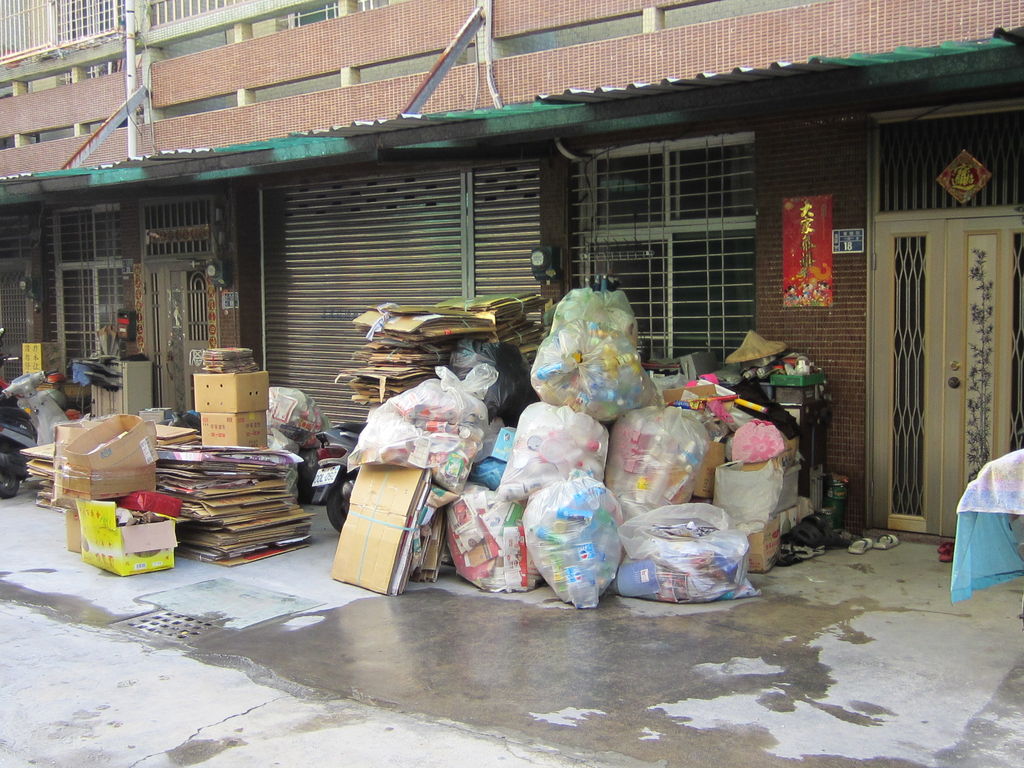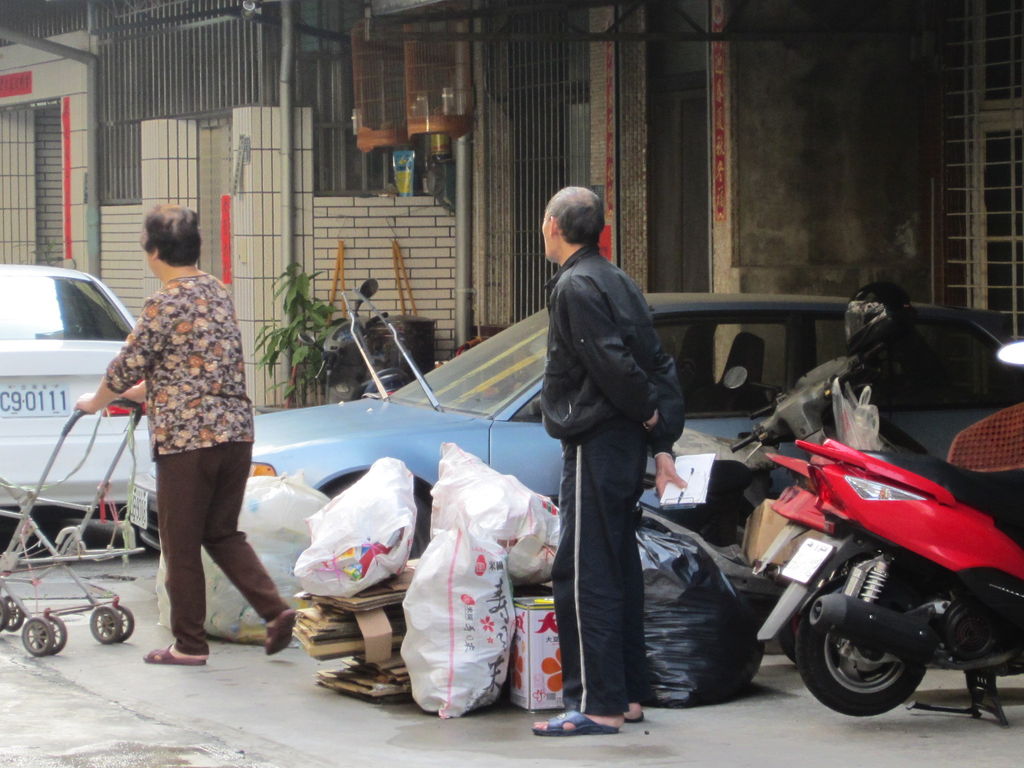 Neighbors collect and organize recyclables
As I travel around the country, more and more innovative ideas seem to be creeping out of the woodwork. For instance, take the Chunghua Post Offices, where instead of closing them down to save money, many have taken on additional banking services and leased out their floor space to vendors. Maybe the United States Postal Offices might take some cues before deciding to sell themselves off to franchises.
Caring for the land and serving the people takes on a special halo in a country particularly prone to earthquakes and typhoons. There simply are not a lot of public expenditures available when such disasters (with attending effects) can strike at any time. The Taiwan EPA is bent not only on educating and involving the public in appreciation of nature and conservation (part of many aboriginal cultural traditions), but also promoting new Environmental Science and Technology Parks (ESTPs), self-contained green industrial parks (Environmental Policy Monthly Vol. XIII:10 ).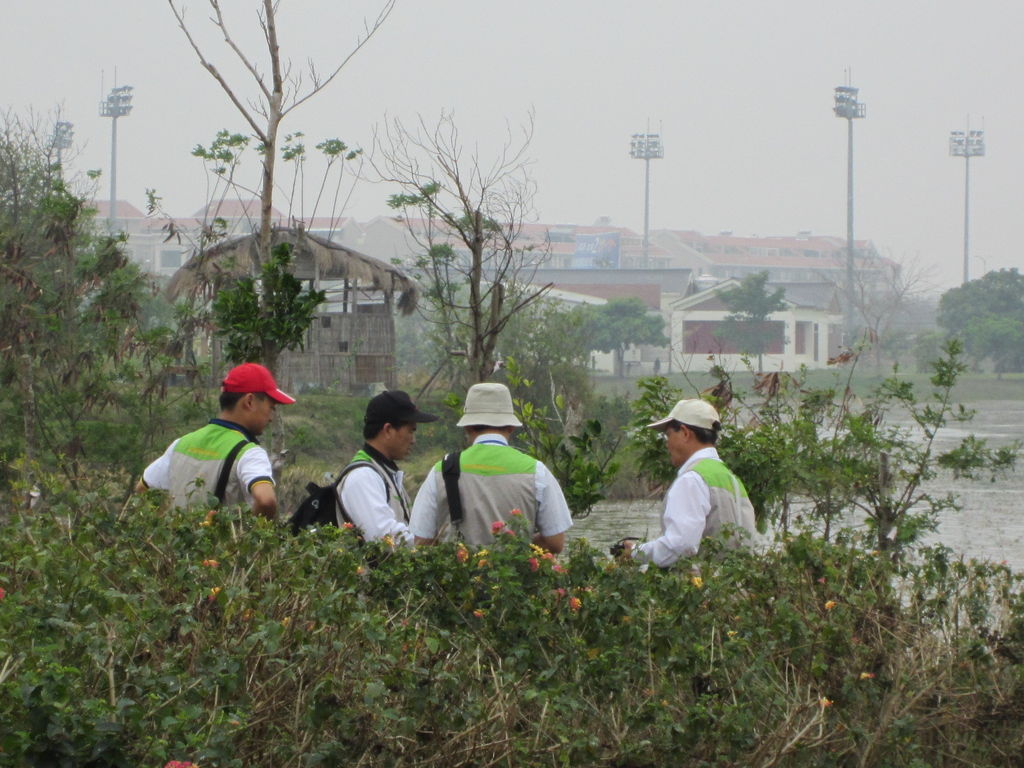 Environmentalists at National Museum of Taiwan History
What I particularly like also about the Taiwan EPA is its ability to enmesh environmental regulations with progressive and traditional social values. After all, it takes more than just the local temple to promote sustainable development and support technological innovation in a land where every wind turbine, each solar panel, and most architectural facades require extra bracing for high wind and earthquake loads.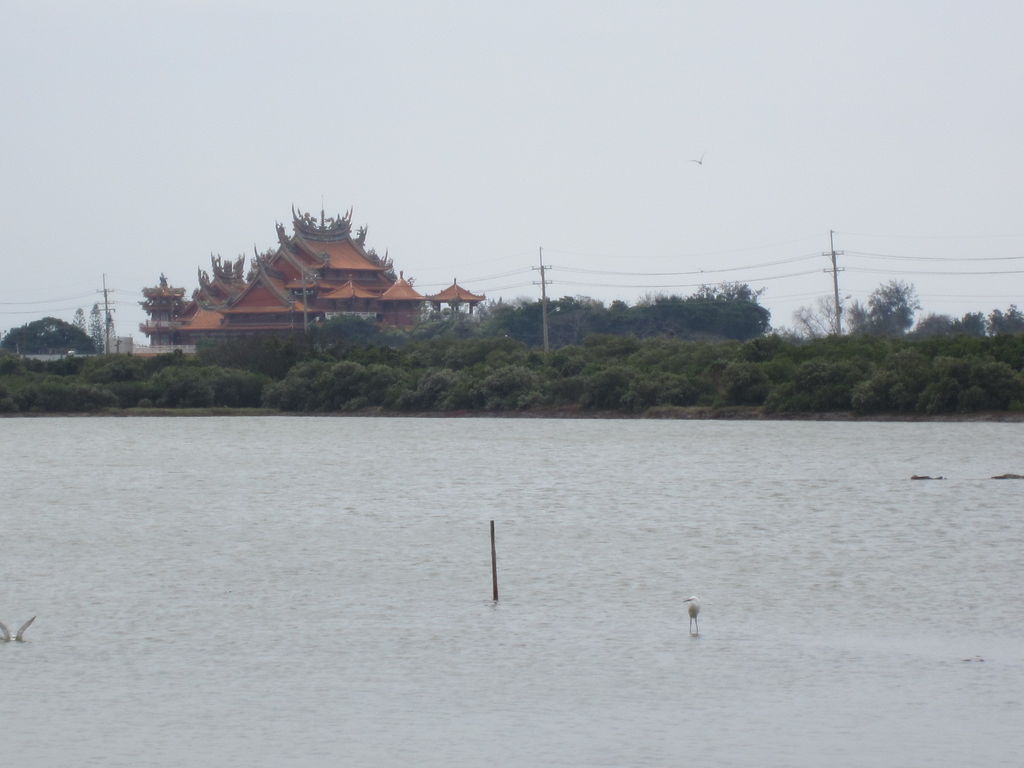 Boat tours to view salt-marshes at An-Ping
Still, I do have a bit of skepticism with regard to just how safe it is to use PVC bags in place of plastic containers for hot-food take-out items such as congee (zhou), or how soon travel mugs will catch on in a tropical country with tea-shops at every corner.
Quenching one's thirst no matter the paper cups
Works Cited:
R.O.C. (Taiwan). Environmental Protection Administration, Executive Yuan. Environmental Protection Administration, 2012. <
http://www.epa.gov.tw/EN/
>.
---Article and Photography by Christine Kroll, P.E. For reprints, contact inquiry@columbiapress.org. Copyright March 2012. All Rights Reserved.
Living the American DREAM: The Dream Walk

by Christine Wong
When the DREAM Act (aka. Development Relief and Education for Alien Minors Act) first came to my attention last year, I felt ambivalent. For one thing, I was living in an urban ghetto and was subject to many negative impressions. Some emigrants can be so mean, rude, and disgusting, and yet they are willing to work with environmental toxins under onerous conditions. Others, for instance, as nurses, help save people's lives. So how is it that their dreams must be left unfulfilled even down to the next generation?
This is the significance behind the Campaign for the American Dream (CAD 2012). More of us need to appreciate how these undocumented college students intend to fulfill their dreams. Aldana, Da Silva, Gonzales, Gutierrez & Martinez are creating their DREAM right now: Walking Across America. Dramatizing pioneer era hopes and fears while cinematizing it on YouTube.
Since CAD2012 (http://thedreamwalk.org/our-mission/english/) started their journey on March 10th from San Francisco (presently near Reno), the six have created a small sensation in local media. They have a long way to go--stopping at 285 cities and thirteen states to spur conversation about their DREAM--before they arrive in Washington, DC. Even if they don't, they may succeed in rekindling the DREAM Act debate.
For instance, the most common misconception about immigrant children educated in the United States is that "they can safely return to their country of origin to serve." Traveling in China and suffering reverse-discrimination as an American-Chinese, I realize now that nothing can be further from the truth. Sure, one may be able to speak one's native language, but there is a lot of national indoctrination included in any citizenship education (often one of education's foremost goals). Forcing adult students to return to their native country after receiving K-12 education here in the United States would just create severe individual stress and emotional strain. It might be inflicting unintentional damage to several parties in two countries where none was due.
California, the state from which the DREAM team embarked, already recognized the pragmatics of supporting the progressive bill. According to the Huffington Post, Governor Jerry Brown, who signed AB 131 last October stated:
"Going to college is a dream that promises intellectual excitement and creative thinking...The Dream Act benefits us all by giving top students a chance to improve their lives and the lives of all of us." (qtd. in Huffington Post, 08 Oct. 2011)
The notion that undocumented college students pose a threat to the rest of the graduates at the job-market is merely negative projective myth-making, given the present shortages in fields such as science and engineering. If nothing else, college graduates have the resources and capability to retool and remake themselves according to circumstance. Insofar as additional debt, the Huffington Post found that:
According to the California Department of Finance, about 2,500 students will qualify for Cal Grants as a result of the bill, at a cost of $14.5 million. This amount will make up 1 percent of the annual $1.4 billion budget of the Cal Grant program. (08 Oct. 2011)
At 1 percent of the entire Cal Grant program, undocumented college students will not be making too much of a dent on the budget.
CAD 2012 has a long way to hike if they are to make it to Washington, DC by October. According to Juan Gastelum in "A Cross-Country Walk" (Univision News Tumbl, 12 Mar. 2012): "The group intends to spur conversation about the DREAM Act and immigration reform in 285 cities in the thirteen states along their arduous route." While the group has caught the attentions of the California State Assembly, groups affiliated with the University of California, and faith-based organizations, they are actively soliciting all kinds of support including writers and musicians--and even more walkers.
This will be the second group of DREAM Act campaigners to cross the country on foot. According to Lucas: "'CAD was inspired by the Trail of DREAMs in 2010, which was a walk that took place from Miami, FL to Washington DC.' " (qtd. in The Curious Ostrich). A visit to the CAD2012 website includes biographies, blogs, general information about the media and experts, and fundraisers.
Learning about what undocumented college students may undergo is political consciousness-raising. One is appalled that Jonatan spent a month at a detention center; that Nico's life is an echo of the blight when an only parent is afflicted with cancer; or that others had been repeatedly turned down by name universities.
The videos and interviews awaken people's empathy. As they continually endure perils on their trek, let's hope that 17-miles per day are filled with the joys of knowing that many citizens support them and wish them the best.
--Submitted to apaforprogress.org in April 2012
Works Cited:
"California Dream Act Signed by Jerry Brown."
Huffington Post
. Huffingtonpost.com, 08 Oct. 2011. Web. 25 March 2012. <
http://www.huffingtonpost.com/2011/10/08/california-dream-act_n_1001828.html
>.
Campaign for an American DREAM. Thedreamwalk.org, 2012. Web. 25 March 2012. <
http://thedreamwalk.org/our-mission/english/
>
Gastelum, Juan. "A Cross-country Walk for the DREAM Act."
Univision News Tumblr
. Univisionnews.tumblr.com, 12 Mar. 2012. Web. 25 March 2012. <
http://univisionnews.tumblr.com/post/19200754441/dream-act-advocates-walk-to-nations-capital
>.
Madrigal, Young, Gonzales, Gatewood, Mejia, and Young. "Dreamers Begin Walk from San Francisco to Washington, D.C., 3/5-3/12."
The Curious Ostrich
. Thecuriousostrich.wordpress.com, 12 Mar. 2012. Web. 25 Mar. 2012. <
http://thecuriousostrich.wordpress.com/2012/03/12/dreamers-begin-walk-from-san-francisco-to-washington-d-c-35-312/
>.
****************************************************************************************
For permission to reprint articles, please contact: inquiry@columbiapress.org.
How to Cite Any of the Above Articles Using MLA Format:
"Name of Article." Asian-American Forum. Columbia Press, Spring 2012. Web. Date of Access. <www.blu-geese.org>
How to Cite Any of the Above Articles Using APA Format:
Wong, C. (2012). Name of article. Asian-American Forum, 13. Retrieved from http://www.blu-geese.org/
Past Newsletters
Disclaimer

: Asian-American forum is a free e-Newsletter published by Blu-Geese.org. The views expressed vary seasonally, like the winds, with content subject to adjustments, editing, and revisions. The facts, names, and dates in creative non-fiction works are fictive; all referenced works remain the copyright of their respective owners. For information regarding contributions or permission to reprint articles, contact

inquiry@columbiapress.org
Copyright 2009-2011 by Columbia Press, All Rights Reserved.